NEW First-ever Environment-friendly Omega-3 Refill Pack in Sg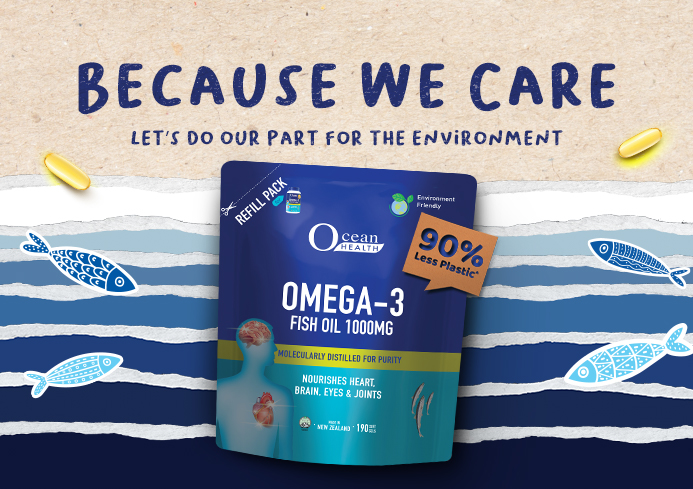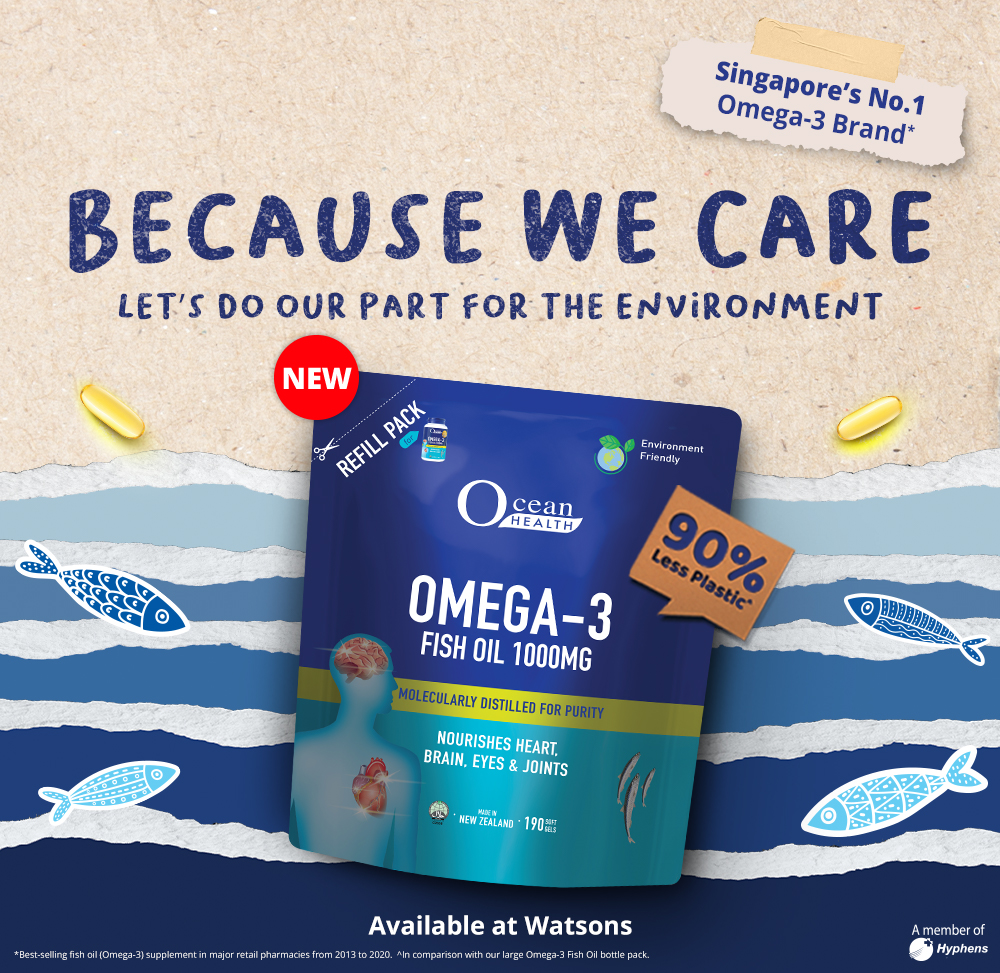 • Ocean Health hopes to play its part in contributing to a more sustainable environment
• Will donate S$1 for every Refill Pack sold from now to 30 April 2022 to Our Singapore Reefs as part of its corporate social responsibility efforts
Singapore, 15 February 2022 –Ocean Health Pte. Ltd. ("Ocean Health"), a brand under Hyphens Pharma International Limited ("Hyphens Pharma" or "凯帆药剂国际有限公司") has launched the Omega-3 Fish Oil 1000mg Refill Pack ("Refill Pack"), the first-ever refill pouch in the health supplement category in Singapore.
The idea for the Refill Pack came into fruition from a conversation between Ms Irene Lau, Managing Director of Watsons Singapore and Hyphens Pharma's Executive Chairman and CEO, Mr Lim See Wah on how leading health supplement brand Ocean Health could positively contribute to a more sustainable environment.
The Refill Pack will be sold exclusively in Watsons outlets at the retail price of S$29.90 and contain 190 soft gels. Developed in Singapore, the Refill Pack uses 90% less plastic (in comparison to the large Ocean Health Omega-3 Fish Oil bottle) and encourages customers to reuse Ocean Health's bestselling Omega-3 Fish Oil bottle.
Mr Lim See Wah, ("林世华") Executive Chairman and CEO of Hyphens Pharma commented: "Hyphens Pharma is committed to sustainability and is pleased to launch a refill pack of our bestselling Ocean Health Omega-3 Fish Oil health supplement. As Singapore's No. 1 Omega-3 leader, Ocean Health hopes to lead and do its part in plastics reduction. We urge our consumers to join us in contributing to a more sustainable ocean environment by using the Refill Pack."
Ms Irene Lau ("刘丽萍"), Managing Director of Watsons Singapore commented: "Sustainability is not just a buzzword or a trendy seasonal term at Watsons. As a major player in the health and beauty retail sector, we have the responsibility to lead and establish a tripartite partnership with our strategic suppliers and customers to contribute to a better world for all. Many thanks to Ocean Health for their willingness to do their part, resulting in the launch of this industry-first supplement refill pack."
In addition to taking small steps to help in plastic reduction, Ocean Health will also be donating S$1 to every Refill Pack sold from now to 30 April 2022 to support Our Singapore Reefs ("OSR"), a non-profit organisation that cleans up marine plastic litter and other debris to protect marine biodiversity in Singapore waters. OSR aims to promote awareness about Singapore's marine biodiversity, provide a platform for academics, businesses, NGOs and agencies to work together, and empower the public with means to conserve and protect Singapore's reefs.
Sam Shu Qin ("岑淑芹"), Co-Founder of Our Singapore Reefs commented: "We appreciate the support from businesses like Ocean Health and their efforts to reduce plastic consumption and waste. We hope that more companies can proactively come forward and make the necessary changes in their businesses to protect our environment."